In-Game Examine Window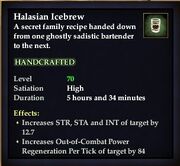 EverQuest II Item Information
Type: Drink

Halasian Icebrew

A secret family recipe handed down from one ghostly sadistic bartender to the next.
 
HANDCRAFTED
Satiation
High
Duration
5 hours and 34 minutes
Level
70 (Tier 8)
Effects:

Increases INT, STA, STR, AGI and WIS of target by 16.5
Increases Out-of-Combat Power Regeneration of target by 117.6




Obtain: Provisioner-crafted using a level 70 recipe from Bartending for Sadists.
\aITEM 1631773935 1896951636:Halasian Icebrew\/a \aITEM 1631773935 1896951636:Halasian Icebrew\/a
What does this information mean?
Notes
Needs a special ingredient from The Estate of Unrest: Halasian Whiskey. (It is "harvested" from a node in the Bar area.) Each whiskey makes 5 icebrew.

The recipe for the icebrew is as follows:
EQ2i credits this article at Census for the info in this article.
the last update on Census for this item was:
Thu, 13 Jul 2017 14:50:32 +0000
Community content is available under
CC-BY-SA
unless otherwise noted.