EverQuest 2 Guild Information

| | |
| --- | --- |
| Guild | Shard Collectors website |
| Server | Unrest |
| Peak Playing Time | 365/24/7 |
History of the Shard Collectors
Edit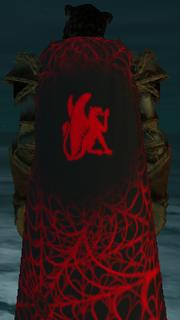 What is this name "Shard Collectors", and what is its history?
Edit
Once upon a time, back in the first months of 2005, there was a young Ogre named Filmore Graves running around the Commonlands with 75% XP debt. Everywhere he turned, lo and behold, there was one of his Spirit Shards... mocking him and his severely weakened state. Pondering the reasons behind him being 18 Spirit Shards down at the time... and none of them within his ability to retrieve, he came to a startling realization: Filmore needed help.
Sending a call for aide high and low ("Help me, I'm 18 Shards down and can't move because my strength is now that of 2 day old Mole Rat"), Filmore awaited a response. To his chagrin, people responded in droves ("Gimp!" "LMAO" "OMGZ!", etc.). Eventually though, a small group of like minded individuals (all with 50%+ XP debt), did form up and decided that working together to collect everyone's Spirit Shards might be a good idea.
Even though no more than a couple were ever retrieved (not to mention a few more were lost in the effort)... and the whole group was forced to camp out for 48 hours and reflect on the errors of their ways... some great friendships were made.
The foundation of what was to become one of the largest EverQuest 2 guilds Worldwide was born that day: "Guys, we are terrible at this game and no one wants to help us because we keep giving them group XP debt and Shard runs.....want to form a guild? We could call ourselves the Shard Collectors since that's all we ever do" ... others: "Sure, nothing else to do until this debt wears off anyway".
As time went by, the Shard Collectors noticed that the Unrest server's raiding crews were threatening to usurp all the coveted "Most Deaths on the Server" leader positions... and decided that things needed a shakin' up. Those positions were there for the taking! It was the begining of the end for rational thought, *however* it is also widely accepted as being the single most defining moment in the history of several prominent tradeskillers, as well as some notable game developers.
Legend has it that immediately following none other than the very first Shard Collectors raid...the future ideas of Repair Kits, Mendor Bots, removal of noteworthy Death Penalties and the addition of EQ2 AAs to boost characters abilities were conceived.
PS.....then we killed some stuff.
Guild Level
Edit
The Shard Collectors is a level 90 guild on the Unrest Server. We have attained this by being the tortoise in the race. Slowly yet surely doing what it takes to reach the finish line.
Rules to Live By
Edit
01. Have Super Fun!
02. Respect our Guild and the Folks who are in it.
03. No whining, it hurts our ears and eyes.
04. No Bots.
05. Need before Greed.
06. No Stealing, Scamming or Begging.
07. Help out when you can.
08. If you have a problem, let an officer know.
09. No bad mouthing.
10. Have Super Fun!
Shard Collectors and Raiding
Edit
When do The Shard Collectors raid?
Edit
We raid:
Monday from 8pm Eastern to about 11pm Eastern.
Friday from 8pm Eastern to about 11pm Eastern.
Very occasional raiding on Tuesdays, Thursdays, or Saturdays as well.
Are The Shard Collectors recruiting?
Edit
Tired of raiding 5 nights a week? Looking to raid but hate the requirements of raiding guilds? Tired of being forced to play your Healer when you like to Lifeburn!
Then Shard Collectors is the place for you! Fun, Family Style, Honest, Outgoing, Helpful, Level 80 guild raiding T8 content.
We accept alts. Currently accepting all classes. Prefer levels that can raid T8 content.
Yes, currently we are recruiting, but not limited to:
Swashbuckler
Ranger
What is involved in recruitment?
Edit
Please contact any Guild Recruiters if you have questions about joining. Or if you see a Shard Collector member, feel free to send them a tell asking if a recruiter is online.
Don't be shy, "hazing" has been discontinued ever since "The Incident".
Any one is welcome to the Guild - as long as you have not been booted from it. We are a outgoing, fun, helpful, and friendly, and welcome all.
The Guild Recruiters are
Filmore
Kanos
Ravenclaw
Ruthguard
Sharakari
Vampyress

Promotions in rank take time and you must have a good reputation.
What loot system does the The Shard Collectors raid group use?
Edit
New AP loot system in place since Nov 14. Visit www.shardcollectors.com for more details.
Is The Shard Collectors casual or hardcore?
Edit
Our Raid Schedule is casual (2 scheduled weekly raids, with an occasional 3rd), but we play to win. Content progression is a goal we have been diligently implementing, but the fun of raiding amongst freinds is *the* top priority.
Particulars...
Edit
Who are the leaders of the The Shard Collectors raid groups?
Filmore Graves
Kneebreaker
Sharakari
What is the age range of people in the raid group?
Edit
The average age is in the mid-30s, but we do have participants that generally range from 15-50.
Guild Leadership
Edit
Deathlords
Edit
Aarathen
Avelth
Elfwitch
Heleth
Ravenclaw
Sharakari
Vampyress
Senior Enforcers, Enforcers, and Other Members
Edit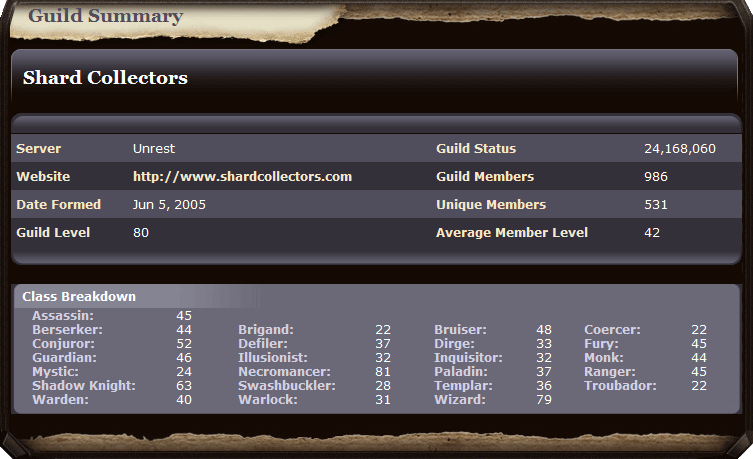 Community content is available under
CC-BY-SA
unless otherwise noted.