In-Game Examine Window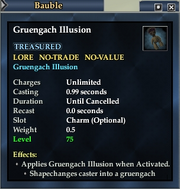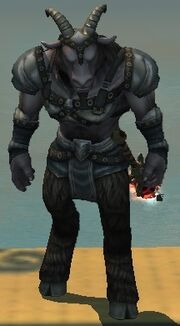 EverQuest II Item Information
Gruengach Illusion

 
TREASURED
ORNATE,  LORE,  NO-TRADE,  NO-VALUE
Gruengach Illusion
Charges
Unlimited
Casting
1 second
Duration
20 hours
Recast
0.0 seconds
Level
75 (Tier 8)
Effects:

Applies Gruengach Illusion when Activated.

Shapechanges caster into a gruengach
This does not apply with the Official Defenders of the Seal Scouting Uniform.



Obtain: Purchased from Lamis <Master of Disguises> in the central area of The Hole by hailing him and paying 5 plat
\aITEM -576246323 -1079481217:Gruengach Illusion\/a \aITEM -576246323 -1079481217:Gruengach Illusion\/a
What does this information mean?
The Gruengach Illusion is used to avoid negative faction hits in The Hole.
Using the illusion temporarily moves your character to maximum negative faction (-50,000) with all 3 Hole factions (Caertaxian Legion, Defenders of the Seal, Guardians of the Underfoot). Then, once it is removed, all faction changes incurred while the illusion was active, both positive and negative, are removed, leaving your faction standing as it was before donning the illusion.
Using this illusion allows players to do daily quests that require killing mobs without taking permanent faction hits from the killing. To make sure players don't accidentally hand in the quests while in Gruengach Illusion and waste the faction gain, the quest giving NPCs won't speak with you while the illusion is active.
EQ2i credits this article at Census for the info in this article.
the last update on Census for this item was:
Tue, 18 Jul 2017 14:52:55 +0000
Community content is available under
CC-BY-SA
unless otherwise noted.