What does this information mean?
You must have completed the quest The Final Piece or Disciple Shula will not offer you this quest.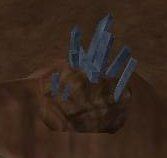 Travel to the Grueling Pits in the goblin camp north of the Swiftrider's Camp. ( 255, -106, -1035 ) 

/waypoint 255, -106, -1035

Examine 6 gemstones being mined by Sandscawler miners strewn about the POI.

One gemstone is outside the marked area, at ( 144, -100, -1087 ) 

/waypoint 144, -100, -1087

.

Return to Disciple Shula.
At least

1g

One of the following, based on Class:
Community content is available under
CC-BY-SA
unless otherwise noted.