"Greater Faydark is home to the fae and other folk who wish to live in harmony with nature. Though the city of Kelethin is sheltered, can there ever be peace with the orcish legions patrolling so near at hand?" --Everquest II Journal
The following are quest series that take place in the Greater Faydark and Kelethin. They are aimed at characters of levels 1-20. Some quests are only available to characters of good alignment.
The Nursery is located in northern Greater Faydark. The nursery quests are meant to be done in order.
Infestation! (1)
Chipping and Shrumbling (5) - from Scout Spelunkle
To Echo Echo (5)
An Old Bottle (on the beach)
Shroom Cave Series
[
]
Dyer Mycoria (6)
Unwelcome Guests (6)
Grobin Strike (8)
Crushbone Orcs? (8) - Continue with Sapling Spur Outpost series
Tilting the Scale (8) - Continue with Brodo Gillywump at Green Knoll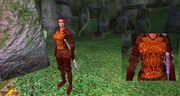 The Claw of the Bear (12)
A stone like stars (10)
The following quest series are independent of each other, and can be done simultaneously.
Fauna Investigation (10)
Removing the Source (10)
Weevils on the Evils (11)
Building a Fire (10)
Crushing the Crushbones (12) (repeatable quest)
(For levels 6-12)
The following quest series are meant to be done in order.
Fae Spirit series
[
]
For Non-Fae Characters
Jilaen
Lady Katri (8) (no longer available)
For Fae Characters (Continues from The End of the Grender)
The Fae Rings (9)
Optional Kelethin Quests
[
]
Clearing the Way (8)
Competition (13) - repeatable
Learning the Ropes (11)
Traeger's Sign (9)
Examine a slumped mushroom at ( 485, 0, -173 ) Copy/waypoint 485, -0, -173 or ( 650, 2, -118 ) Copy/waypoint 650, 2, -118
Examine a tart faydark truffle at ( 432, 2, -58 ) Copy/waypoint 432, 2, -58 or ( 528, 0, -54 ) Copy/waypoint 528, 0, -54
Spire Shadow Outpost
[
]
unlocked by Whittier's series (also possibly unlocked by level)
Tussle for Toxin (13)
Sniffwistle's Superior Attacker (14) (repeatable quest)
Tunare's Glade
[
]
Crushbone Territory
[
]
unlocked after Into Crushbone Territory in Seren's series
Optional Crushbone Quests
[
]
Daruk Granite Nose Dobbson - unlocked after Crushbone Territory from Tuathil Laeds
Starts with Elonca Nusback
On the Shoulders of Legionnaires (28) Heroic
New Tunaria Outpost
[
]
Starts with Shimmer Moonfair
A Funny Little Dance (16)
See Also
[
]