Set amidst the emerald canopy of the grandest forest on all of Norrath, the tree city of Kelethin has blossomed into a thriving center of activity. As shadows linger over Felwithe and the Crushbone orcs continue their quest for dominance, the Greater Faydark's lighthearted Fae work to promote peace and harmony with nature.
Geography
Edit
This zone includes the city of Kelethin, which is the starting city for the Fae. It is also an optional starting city for Dwarves, Wood Elves, High Elves, and Gnomes.
A set of horse routes offer quick travel between all the major sections of the zone. The horse will take you from Kelethin to each of the adjacent zones and Crushbone. The Kelethin station is located under the city near the Old Kelethin Lift. You no longer have to visit each station to unlock it for travel.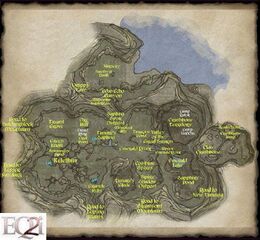 Dungeons
Edit
| Dungeon Name | Level Range | Target Audience | Zone Type | Typical Duration |
| --- | --- | --- | --- | --- |
| Crushbone Keep | 20-30 | Group | Shared Dungeon | |
| New Tunaria | 55-65 | Group | Shared Dungeon | |
| The Acadechism | 55-65 | Group | Instance | 45 minutes |
Revive Locations
Edit
Adjacent Zones
Edit
See the Greater Faydark Timeline.
Similar Zones
Edit
For a list of possible Expert "blue shiny" spawn points for this zone, see this list.
Community content is available under
CC-BY-SA
unless otherwise noted.