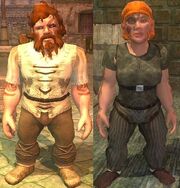 .
What does this information mean?
Lingwal curses and if not cured will drain the power of a player. Once a play has run out of power Lingwal will randomly select a player and insta-kill him. Death-saves do not appear to prevent this. Because the curse comes more frequently than the cool-down the cure, only the main-tank and healers should be cured. The trick to surviving this fight is to have 2 people in group that can rez. The 2nd rezzer (aside from healer) could be a dirge, or necromancer, but they must be able to resurrect the healer if they go down.
He also has an ability to periodically teleport to the center and call a burst of water from beneath the platform. Therefore the tank should hold him a short distance from the group facing away from the group who can stand on or very near to a platform beyond the edge of the circle. When he teleports to the center everyone should run to the platform and shelter while he blasts some of the zones, it is possible to spot though which zones will be hit so the tank can stay out. If the person with aggro stands on the "safe ledge" the fight will reset.
Community content is available under
CC-BY-SA
unless otherwise noted.