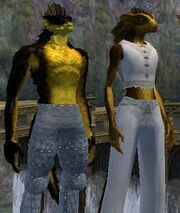 .
What does this information mean?
Grand Master Sathaz is the sensei of the Broken Shackle Monks, a clan of Iksar martial artists residing in Sebilis.
Grand Master Sathaz will only spawn if both his placeholder and the other nearby mob Master-at-Arms Nishaz are down (I found this not to be the case, we couldn't get him to spawn with the other named dead). He is normally accompanied by four unconnected but social Broken Shackle initiates. He is a Fighter, specifically a Bruiser, and should be approached as such.
His known drops include Sathaz's Dou Li (a brawler hat) and The Legends of Fyst, a recipe for the Bruiser epic timeline. The latter only drops if there is a Bruiser in the group who is on the epic quest. The item will not drop in a chest, but will be randomly assigned to a member of the group. The item is tradeable.
Community content is available under
CC-BY-SA
unless otherwise noted.