EverQuest II Named Monster Information
Zone (Patch)
Ascent of the Awakened: Audience with the Guardian (Kingdom of Sky)
Race
Dragon
Level
77▲▲▲ Tier 8 Epic x4 , (Approx. HP: 2,300,000)
Location
Reported Drops
Melee Attacks
Slashing
Spell Attacks
Crushing, Cold, Heat
Special Attacks

Warning***- Every(x-seconds) the MT(or whoever has agro) will be teleported to the 4th or 3rd floor randomly, and the Agro table is wiped.

Icy Breath (single target Cold DD, Low damage)
Breath of Gorenaire (AOE within range Cold DD/DOT, 60 second recast; 1 second ticks)
Tail Lash (AOE within range Crushing DD, 60 second recast; Moderate Damage)
Dragons Curse (AOE within range Heat, 70 second recast; debuff)
Rays of Faith (AOE group Divine DD, 90 sec recast; Seems to hit only a few targets)

Related Quests
AA Exp
Yes
Status Points
none
What does this information mean?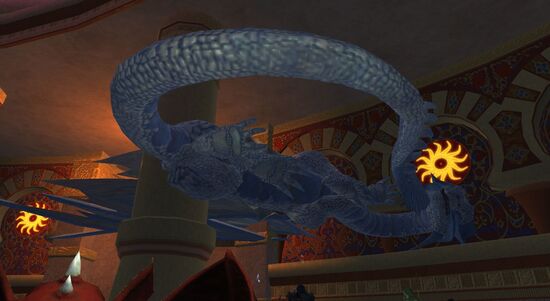 Click statue at ( -54, 141, 23 ) /waypoint -54.23, 141.22, 23.37 to Summon the Guardian of Ice
Community content is available under
CC-BY-SA
unless otherwise noted.