What does this information mean?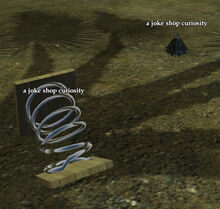 For this quest you can attack and destroy several a wooden crates or a locked chests.
There are two types of crates. One type is a monster that engages in battle, the other type can be targeted and hacked open. Low level or "squishy" classes may chose the non-monster type as they do not attack back.
All types of crates and the chests will release 1-5 a joke shop curiosity that move away while you collect them for updates.
Go and speak with Captain Gnoggin ( -8, -3, 17 ) 

/waypoint -8, -3, 17

to board the boat.
Move toward the Captain to begin. Within a few minutes until explosions go off. After a few seconds of this you are transported to a special instance Gnoggin's Hidden Cove.
Collect 50 pieces of Jokeshop Merchandise by defeating/destroying wooden crates or locked chests.
Find and defeat Pirate Captain Gnoggin, by heading to the pond at the center of the southern wall. Click the large rock in the wall by the pond to get the message that it can't be moved.
After defeating the Captain, loot and use Gnoggin's Bomb on the rock you were unable to move previously. When the rock explodes, you will be thrown back, but unharmed.
Proceed down the newly exposed tunnel to a door which takes you back to the docks in Enchanted Lands.
Speak with Galan Jokepeddler to complete the quest.
At least

12g

 

82s

 

30c

(at level 90)
One of the following:
| | |
| --- | --- |
| | This article refers to events, personae and activities only present in-game during the annual Bristlebane Day celebration, which comes to Norrath each year on and around April 1st. |
Community content is available under
CC-BY-SA
unless otherwise noted.