For other articles with related titles, see Glowing Black Stone.

In-Game Examine Window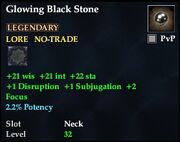 Glowing Black Stone


LEGENDARY, Glowing Black Stone
LORE,  NO-TRADE,  NO-VALUE,  NO-TRANSMUTE,  NO-SALVAGE
  

13 Primary Attributes

13 Stamina


+75  Resistances 2 Combat Skills
Dark Deeds
 
Slot
Neck
Level
30 (Tier 4)
 
Effects:


When Equipped:

On any combat or spell hit this spell may cast Dark Deeds on target of attack. Triggers about 1.8 times per minute.

Inflicts 79 magic damage on target.
Heals caster for 150.
Cannot be modified except by direct means
Obtain: Reward from the heritage quest, A Strange Black Rock.
\aITEM -1675274121 -1762789712:Glowing Black Stone\/a \aITEM -1675274121 -1762789712:Glowing Black Stone\/a
What does this information mean?
This item may be turned into a House Item called The Legendary Glowing Black Stone, by examining it in your inventory.
This item is a Light Source. When equipped, it will emit light from you.
EQ2i credits this article at Census for the info in this article.
the last update on Census for this item was:
Thu, 17 Dec 2020 15:39:12 +0000
Community content is available under
CC-BY-SA
unless otherwise noted.