For other articles with related titles, see Ghoulbane.

In-Game Examine Window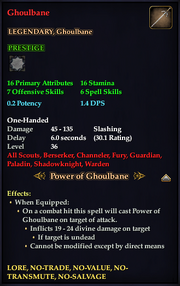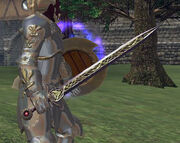 Ghoulbane


LEGENDARY, Ghoulbane
LORE,  NO-TRADE,  NO-VALUE,  NO-TRANSMUTE,  NO-SALVAGE
 

16 Primary Attributes

16 sta


7 Offensive Skills
1.4 DPS
0.2%  Potency

Power of Ghoulbane
 
Slashing
One-Handed Slashing
Damage
45 - 135                  (30.11 Rating)
Delay
6.0 seconds
Level
36 (Tier 4)
All Scouts, Paladin, Shadowknight, Berserker, Guardian, Fury, Warden, Channeler
 
Effects:


When Equipped:

On a combat hit this spell will cast Power of Ghoulbane on target of attack.

Inflicts 19 - 24 divine damage on target
Cannot be modified except by direct means
Obtain: Reward from the heritage quest, Restoring Ghoulbane.
\aITEM 1961133364 -1002157630:Ghoulbane\/a \aITEM 1961133364 -1002157630:Ghoulbane\/a
What does this information mean?
EQ2i credits this article at Census for the info in this article.
the last update on Census for this item was:
Tue, 14 Jul 2020 15:20:05 +0000
Community content is available under
CC-BY-SA
unless otherwise noted.