In-Game Examine Window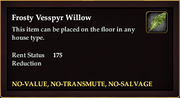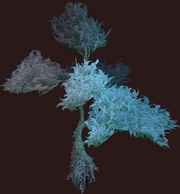 EverQuest II Item Information
\aITEM -805405081 1002966493:Frosty Vesspyr Willow\/a \aITEM -805405081 1002966493:Frosty Vesspyr Willow\/a
What does this information mean?
This can be gathered before, during the Captain Overboard? quest, or after. See the quest page for possible locations.
It is found on the the large Falinpol island, which is the central island in the zone.
Like all other willows from the Vesspyr Isles, the gathered tree can spawn in one of several locations around the isle.
The respawn timer is rather long, so moving around the island to find more is most efficient approach.
Loyalty Token Tree
Edit
An identical version of this tree can be purchased from Noble Taig Rhul. In addition to this tree, several oak trees that look nearly identical to the Vessypry willows can be purchased as well. See the Loyalty Point House Items page for details.
Similar Trees
Edit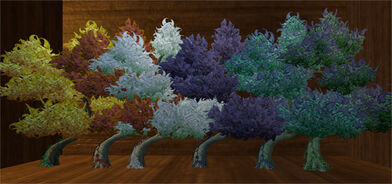 The following can also be gathered from the isles:
EQ2i credits this article at Census for the info in this article.
the last update on Census for this item was:
Tue, 18 Jul 2017 14:52:56 +0000
Community content is available under
CC-BY-SA
unless otherwise noted.