You may upload a JPG or PNG image of the in-game examine window.
EverQuest II Item Information
\aITEM -2017991885 -327293411:fresh-cut rose\/a \aITEM -2017991885 -327293411:fresh-cut rose\/a
What does this information mean?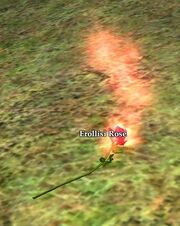 Harvesting "Erollisi Rose" ground spawns in Enchanted Lands and Frostfang Sea results in fresh-cut roses being put into your inventory.
Ample Harvest could trigger when you are harvesting, resulting in double the roses being put into your inventory.
The number of roses received per harvest depends on your character level. Lower level toons generally tend to receive two roses per harvest, while higher level toons tend to receive three per harvest -- the approximate cut-off level where this amount changes is as yet unknown.
You can only give roses to other players; NPCs and pets cannot receive them. If you attempt to give a rose to a player who has already received one from you within the past hour, you will get a message saying so and the rose will be returned to your inventory.
Fresh-cut roses are used for the quests My Romantic Reputation, and Bouquet of Trust (for Good alignment characters) or Bouquet of Thorny Trust (for Evil alignment characters).
EQ2i credits this article at Census for the info in this article.
the last update on Census for this item was:
Wed, 13 Dec 2017 15:51:02 +0000
Community content is available under
CC-BY-SA
unless otherwise noted.