For other articles with related titles, see Focus: Accuracy.

In-Game Examine Window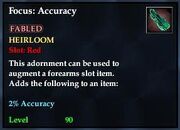 EverQuest II Adornment Information
Focus: Accuracy

This item can be sold to certain NPCs for status. Selling it also earns guild status if your guild is below level 100. Status bonuses granted by the server are not included on items sold to merchants.

FABLED

HEIRLOOM

Adds the following to an item:
2% Accuracy

Item Type
Forearms
Slot Type
Red Adornment Slot
Level
90 (Tier 10)
Obtain: This item can be purchased from Kal'Jeketh, a Token Trader vendor in The Sundered Frontier
Community content is available under
CC-BY-SA
unless otherwise noted.