EverQuest 2 Quest Information
Journal Category
Tradeskill
Journal Level
90 (Tier 10)
Journal Difficulty
Solo
Starting Zone
see Starting the Quest below
How to Start
Open an in game mail
What does this information mean?
Steps
Find Raffik in Great Divide at Goahmari Village at ( 306, -15, 514 ) 

/waypoint 306, -15, 514

Pick up 5 Gryphon Research books in the Thurgadin Harbor Library at ( 1088, -456, 506 ) 

/waypoint 1088, -456, 506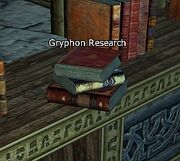 These books are harvestables and can appear on all levels of the library. Use tradeskill `Track Harvestables´ to find the books quickly.
Craft an Essence of the Zephyr from the recipe given. (1 plump lychee, 2 matoppie roots, 1 aduki bean, 1 Ethereal Candle) Chemistry Table on the top level of the library at the far end. ( 1234, -456, 651 ) 

/waypoint 1234, -456, 651

Return to Raffik
Rewards
At least

10p

 

7g

Essence of the Zephyr Recipe Book
Community content is available under
CC-BY-SA
unless otherwise noted.