EverQuest 2 Quest Information
Journal Category
Signature
Journal Level
65 (Tier 7)
Journal Difficulty
Solo
Starting Zone
Mistmoore Catacombs more
How to Start
Right-click then "search the body" of Mikael Emmetstone at ( 61, -124, 142 ) 

/waypoint 61, -124, 142

NOTE: A discussion page exists which may contain more information
What does this information mean? This is part 1 of 6 in the Signature Quest series for Flowing Cape of the Dark Lord.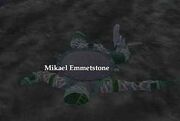 Read the Wax Sealed Letter you received from the body of Mikael Emmetstone.
Speak to Aron Wellingswraith at the pub in the Village of Somborn in the Loping Plains. ( -322, 12, -39 ) 

/waypoint -322, 12, -39
Experience
Community content is available under
CC-BY-SA
unless otherwise noted.