What does this information mean?
This quest is part 4 of 20 in the Steamfont Mountains Timeline.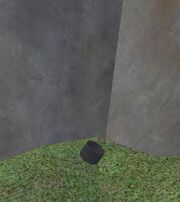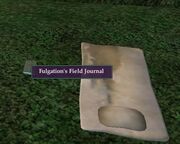 Search for any sign of Remmy Fulgation near Camp Cobalt ( -388, 102, 1040 ) 

/waypoint -388, 102, 1040

Inside Camp Cobalt you will find "An Ownerless Bag". Open and receive Day log of R.F. and Fulgation's Grappling Hook This will advance the quest.
Read the Day log of R.F. (right click it in your inventory and select 'read')

Find a way on top of the hill near Camp Cobalt where Remmy's field journal is.

There is a cliff at ( -379, 113, 986 ) 

/waypoint -379, 113, 986

that has a stone at the top.
Right click the stone and hit "Hook It".
There is one more to hook, just above Remmy's cooking pot.
The Journal of Remy Fulgation is the small book right next to the bedroll, labeled Fulgation's Field Journal. Click it to pick it up (you might have to crouch and zoom in to see it).
To get down, right click the stone and hit "lower yourself down".

Return to Watchman Plarg for your reward.
At least  

1g

 

26s

 

57c

One of the following, based on Class:
Community content is available under
CC-BY-SA
unless otherwise noted.