In-Game Examine Window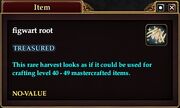 EverQuest II Item Information
\aITEM -1317212124 473163665:figwart root\/a \aITEM -1317212124 473163665:figwart root\/a
What does this information mean?
Harvest Information
From:
T5 Roots
Type:
Rare
This rare harvest looks as if it could be used for crafting level 40 - 49 mastercrafted items.
Node name: wintry roots; paltry roots; insidious roots; musty roots; wholesome roots
Zones: Everfrost; Lavastorm; Rivervale; The Feerrott; Steamfont Mountains
Used for:
Tailor mastercrafted level 42 cloth armor from Advanced Tailor recipes
Jeweler mastercrafted level 42 scarves and sashes from Advanced Jeweler recipes
Carpenter mastercrafted house items from Advanced Carpenter recipes
EQ2i credits this article at Census for the info in this article.
the last update on Census for this item was:
Tue, 18 Jul 2017 14:52:01 +0000
Community content is available under
CC-BY-SA
unless otherwise noted.