What does this information mean?
This is an unlimited repeatable quest (after a cool-down period of 2 hours)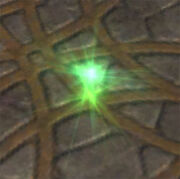 All of the decoration locations are marked with a green sparkle that looks similar to a collection "shiny" from a distance.
If working on this and placing the lanterns for the lost decorations quest, you may have to pass by the same general areas a few times, as the refresh between setting the Ro Candle and the paper lanterns may have a considerable time gap.
All of the locations are found in the Qeynos Capitol District.
Set off Ro candle fireworks by clicking the green sparkles in the areas formerly known as North and South Qeynos. You must place a candle at the following semi-random locations (see the talk page for exact coordinates others have found)

Along the road with the row of shops leading to the Elddar Grove, typically near the Clothspinner tailor shop (in the area that was formerly North Qeynos)
On the stairs leading to the Qeynos Palace in Qeynos Capitol District
Along Erollisi Lane (in the area that was formerly South Qeynos)
Along Lucie Street

Return to Gandy Gearlotta in Qeynos Capitol District.
One of the Following:
Repeating the quest for the fifth time offers an additional reward:
| | |
| --- | --- |
| | This article refers to events, personae, items and activities only present in-game during the annual Heroes' Festival event. Heroes' Festival comes to Norrath for a short time, generally around the beginning of November. |
Community content is available under
CC-BY-SA
unless otherwise noted.