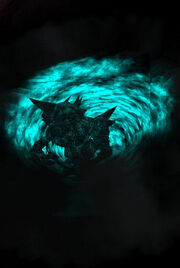 .
What does this information mean?
There are three methods of getting to Ferzhul. The first is to use the portal behind the column of water to teleport up to the platform by Ferzhul. The portal should activate after both sets of trash around the bottom of the column are cleared, although a current bug occasionally prevents it from activating. The second method is to swim up the column of water, although an uncurable elemental DoT is applied any time you are in the water. Ferzhul will also aggro while you are only partially up the column. A third method is to use a pet to pull Ferzhul down and avoid the platform/water column entirely.
Ferzhul will repeatedly port himself back to the top of the platform (where he stands before pulled) during the fight. This can be mitigated if the group stands at the top of the platform, at the edge of the water. Ferzhul AE-knockbacks during the fight, and at 30% health he will call out and all of the previously-inactive trash around the upper edge of the room will turn aggro and rush in.
See the talk page for an example strategy.
When Ferzhul is casting the knockback he says the following in Words of Shade: "Wither before my WRATH!", Warning it's possible to interrupt the knockback!
Community content is available under
CC-BY-SA
unless otherwise noted.