In-Game Examine Window
EverQuest II Item Information
\aITEM -1564652199 -1019012229:Feerrott Creature Catalog\/a \aITEM -1564652199 -1019012229:Feerrott Creature Catalog\/a
What does this information mean?
Book Text
Feerrott Creature Catalog (House Item)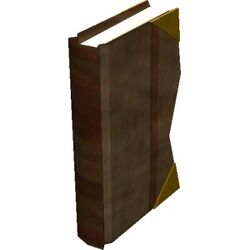 | | |
| --- | --- |
| Author: | Pearl Honeywine |
| Style: | Torn Brown Book |
| Pages: | 6 |
| LootDB Link: | LootDB |

The Feerrott is a dark and dangerous jungle with an equally dark and dangerous past. Through the Ages, the Feerrott has been the home to tribes of Lizardmen, ogres and other minions of Cazic-Thule. The ancient Temple of Cazic-Thule can still be found here, as well as the ruins of other lesser buildings.

The Feerrott was originally a part of the the continent of Antonica, below Lake Rathetear and the Rathe Mountains. Now, it is a separate island to the southeast of the Thundering Steppes of Karan and is surrounded by the Blackwater. The major landmark is Mount Thule, the island's highest point.

This is a jungle, no question about it. Moisture from the surrounding waters gathers upon Mount Thule, sending rivulets down its flanks to create several streams and rivers. The heat trapped by the trees is damp and sticky. Bring a change of clothes and plenty of fresh water, for though the Feerrott has plentiful water resources, they are generally not safe to use.

The high humidity of the region shows in the density of the vegetation. Tall evergreen trees send down roots from high above. Vines sprout seemingly overnight, which can confuse the trails and paths. Many forms of carnivorous plants thrive in the warm, thick air. Their presence fills the undergrowth with the smell of decay.

Travellers to the Feerrott must be on constant guard, for the thick foliage provides excellent cover for many indigenous species. Snakes and spiders grow to immense size as there are no concentrations of large mammalian predators. The Lizardmen still roam the area as well, keeping to their primitive ways of hunting and eating the flesh of the unwary.
Community content is available under
CC-BY-SA
unless otherwise noted.