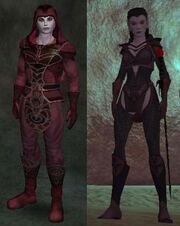 .
What does this information mean?
Spawned by slaying the groups of blood of fury, blood of hatred, blood of malevolence, and blood of vengeance
Avoid yellow circles on the floor. If a bat catches you in a circle, it will fly you to the roof and drop you fatally to the floor.
During the fight, groups of ladies of spite and lords of spite will add.
Estir has a buff that increases every 25% from 1 to 4. She can only be damaged when the number of adds alive equals the number of this buff. Use Singular Focus and avoid unnecessarily killing the adds.
Cure only the noxious on the class called out.
Community content is available under
CC-BY-SA
unless otherwise noted.