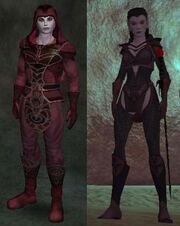 .
What does this information mean?
Part of the Gruesome Twosome, along with Laxil'Vas the Torn.
Part of the Cantankerous Triumvirate, along with Laxil'Vas the Torn and Ragash'Ta the Insidious.
The two statues at the far end will port you out - The one with the red glowy in its hand sends you back to the front of the zone - the blue one out to the Plane of Magic.
Spawned by slaying the groups of blood of fury, blood of hatred, blood of malevolence, and blood of vengeance
Avoid yellow circles on the floor. If a bat catches you in a circle, it will fly you to the roof and drop you fatally to the floor.

NOTE: If you do this fight with a Merc, they can get thrown by the bats, BUT.. they don't come back down. If the Merc has hate, the Mob(s) will go to the Merc, and be "Too Far Away" - you won't be able to hit them. Your Merc can be thrown so far that, if they have hate, the mob will leash, and you'll have to start all over again. May be best to do this one without a Hate grabbing Merc. In any case, if you want your Merc back, you'll have to call them back to you, and may need to move away from the mobs so you Merc has to step toward you. They'll come back to the floor and you can send them back in and continue the fight.

During the fight, groups of ladies of spite and lords of spite will add.
Estir has a buff that increases every 25% from 1 to 4. She can only be damaged when the number of adds alive equals the number of this buff. Use Singular Focus and avoid unecessarily killing the adds. They don't have a lot of health, but they're slow, and will take a while to get to you after her buff changes if you're near the entrance. So fight her near the other end, where the new groups spawn. Or.. watch for her buff number to change (She emotes...) and if you have to kill some, kill the ones already there until the new set gets to you.
Community content is available under
CC-BY-SA
unless otherwise noted.