For other articles with related titles, see Erollisi's Charm.

In-Game Examine Window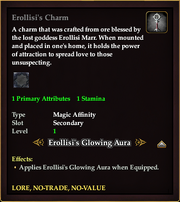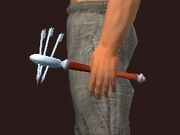 Erollisi's Charm
A charm that was crafted from ore blessed by the lost goddess Erollisi Marr. When mounted and placed in one's home, it holds the power of attraction to spread love to those unsuspecting.


LORE,  NO-TRADE,  NO-VALUE
 

1 Primary Attributes

1 Stamina



Erollisi's Glowing Aura
 
Slot
Secondary
Level
1 (Tier 1)
 
Effects:


Applies Erollisi's Glowing Aura when Equipped.
Obtain:
\aITEM 947675623 -477638035:Erollisi's Charm\/a \aITEM 947675623 -477638035:Erollisi's Charm\/a
What does this information mean?
| | |
| --- | --- |
| | This article refers to events, personae, items and activities only present in-game during the annual Erollisi Day festivities, which come to Norrath each year for a short time roughly around February 14th. |
EQ2i credits this article at Census for the info in this article.
the last update on Census for this item was:
Sat, 16 Mar 2019 14:52:58 +0000
Community content is available under
CC-BY-SA
unless otherwise noted.