This is a master quest list that excludes any holiday/event related quests.
All quests listed here, unless noted, can be started and completed as of June 2018.
Welcome to the Enchanted Lands! Whether you're fresh from The Thundering Steppes or stumbling in from Nektulos Forest, there is plenty more adventure to be had here. This is land of the halflings, who had been the dominant sentient race in these parts until strange demonic invaders began to flood it in the aftermath of The Age of Cataclysms. The halflings need your help in defeating these demonic foes, as well as curbing the villainous intent of The Runnyeye Goblins and the trickery of the Darkflight Fairies. Start your journey from the Lost Village of Bobick and cleanse the Encanted Lands of corruption before making your climb to liberate Rivervale from more of the same threats. Good luck!
NPC Quests
Edit
Leatherfoot Brigade Series
Edit
Starts with Deputy Nettlebrine at ( 26, -1, 20 ) /waypoint 26.34, -1.06, 19.81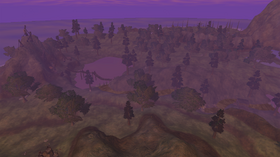 Starts with Sir Tatters at ( 283, 1, -116 ) /waypoint 283, 1, -116
Other NPC Quests
Edit
Dropped Quests
Edit
The following can be dropped by any monster in the zone:
The following have specific drop requirements:
Examined Quests
Edit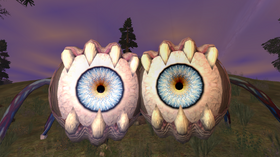 Bootstrutter Quests
Edit
Book Quests
Edit
Heritage Quests
Edit
Other Quests
Edit
These quests involve the Enchanted Lands, but are not necessarily part of the timeline:
The following Racial History Quests complete in the Enchanted Lands:
Collections
Edit
The following collections used to be regular book quests, but were changed into tome collection quests. In-game they appear as pages on the ground instead of a shiny:
Discoveries
Edit
Named Monsters
Edit
Removed Quests
Edit
Community content is available under
CC-BY-SA
unless otherwise noted.