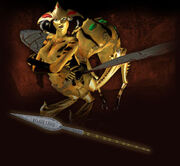 .
What does this information mean?
To make this mob active, you must kill the three named, Trixie (790,000 HP), Mixie (1,500,000 HP), and Blixie (1,600,000 HP) first. If you fight them one at a time, the will respawn about 5-10 seconds later. The trick is, you have to kill them at or near the same time to stop them from respawning. We pulled all three at once, as they are not that tough, brought each one down to 10% and then when all three were almost dead, AoE like mad and burn them. As soon as they die, the collector goes active and immediately aggoes with a few adds. She has a fairly large kickback so fight with your back to the walls. You can also pull them from left to right one by one when you burn one down enough, grab the next one. This helps if you're low on heals.
Community content is available under
CC-BY-SA
unless otherwise noted.