In-Game Examine Window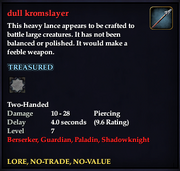 Obtain: Ground spawn near Karatun Hold
\aITEM -502312750 1937083789:dull kromslayer\/a \aITEM -502312750 1937083789:dull kromslayer\/a
What does this information mean?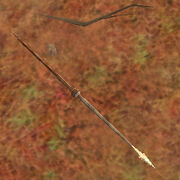 This weapon is a ground spawn near Karatun Hold, the giant camp near Highton. It spawns in several locations (see the talk page for known locations). You can bring this spear to Warlord Gadar Gwalnax at ( 1470, 165, -2910 ) /waypoint 1470, 165, -2910, a Gwalnax Brigade sarnak near Chardok. Also, disabling flora in options will remove the branches from the landscape making the spear more apparent.
Experience
Completing this quest gives +5000 faction with The Gwalnax Brigade until you are Indifferent with them.
Repeatable.
The information below has been verified with in-game data and the information on this page is correct, even if it looks stupid or makes no sense.
---
Fact: I have done this and it does not give any actual quest. It sort of acts like guild status items, but works for faction.
EQ2i credits this article at Census for the info in this article.
the last update on Census for this item was:
Tue, 10 Dec 2019 15:34:44 +0000
Community content is available under
CC-BY-SA
unless otherwise noted.