Description
Edit
According to Dralsh, he is a magical that became self-aware via the magic of an explorer. It is unknown where his personality and demeanor developed.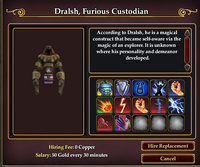 Abilities / Spells
Edit
All mercenaries from mercenary crates are granted randomly. Rarity describes how likely or unlikely a player is to get this mercenary from a crate and, in turn, how much they will sell to Sneerio Backlash for status points.
Dralsh, Furious Custodian is uncommon and sells for 3,000,000 status.
See the Rogues Gallery page for information about this type of mercenary and the location they are found in.
See the Mercenary Guide for a page that describes the use, train, how to add gear, and other topics related to mercenaries.
Dralsh uses fury abilities and may be hired in the Rogues Gallery.
Dralsh floats so he can be used against flying opponents easily.
Community content is available under
CC-BY-SA
unless otherwise noted.