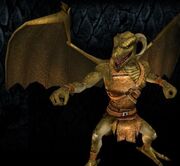 .
What does this information mean?

Doomsworn Zatrakh: To prevent raid wipes from the Arcane DOT on the named, the MA (and possibly a third tank) pulls the small droags to the raid while MT pulls the named away from the grp. For example, you can choose the west wall for the named and the east wall for the small droags. Noone should be away from the grp because if they pull aggro, pillars will block line of sight with the healers on the east wall. Target through the MA who burns the small droags first then turns to the named. Named has AOE arcane DOT that will wipe the raid if not cured. Spam cure arcane when on the named.
Community content is available under
CC-BY-SA
unless otherwise noted.