You may upload a JPG or PNG image of the in-game examine window.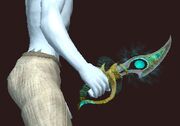 Djinn Master's Point

LEGENDARY
ATTUNEABLE,  HEIRLOOM,  NO-VALUE
 

16 Primary Attributes

16 sta


4 Defensive Skills 4 Offensive Skills
 
Dagger
One-Handed Piercing
Damage
10 - 58                  (17.12 Rating)
Delay
4.0 seconds
Level
20 (Tier 3)
All Scouts, All Mages, Paladin, Shadowknight, Berserker, Guardian, Defiler, Mystic, Channeler
 
Obtain: This item can be purchased from A Heroes' Festival merchant for 20 Mischeva's Tribute
\aITEM -341127798 1778000629:Djinn Master's Point\/a \aITEM -341127798 1778000629:Djinn Master's Point\/a
What does this information mean?
All of the Heroes' Festival shields and weapons named after the event monsters share identical appearances for all levels, following a pattern. For example, Darathar's Ethos is identical to Trakanon's Ethos and Roehn Theer's Quarrel is identical to Djinn Master's Quarrel.
| | |
| --- | --- |
| | This article refers to events, personae, items and activities only present in-game during the annual Heroes' Festival event. Heroes' Festival comes to Norrath for a short time, generally around the beginning of November. |
EQ2i credits this article at Census for the info in this article.
the last update on Census for this item was:
Wed, 21 Nov 2018 17:07:18 +0000
Community content is available under
CC-BY-SA
unless otherwise noted.