What does this information mean?
An ancient water spirit explained to me that a component of the broken druid rings is unbalancing the sprites' magical defenses, thus stopping them from being able to successfully fight off the Scourge.
Notes
You must speak Druzaic to communicate with the elemental.
Steps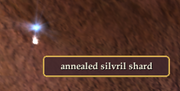 Gather 12 annealed silvril shards in the Grove of Stones ( 210, 14, 103 ) /waypoint 210, 14, 103.
Kill 4 Scourge orcs at the Strategy Gate (76, 3, -83) in the northwest of Spirit Valley.
Kill 4 Scourge orcs at the west end of the Timberlands ( -107, -25, 119 ) /waypoint -107, -24.78, 119.47.
Return to the cleansed rivulet.
Take the shards to the Ulteran Spires, south of Spirit Valley in Spire Basin.
Click the spire debris.
Rewards
At least 1p 53g 9s 13,200 status
One of the following:
Credits