You may upload a JPG or PNG image of the in-game examine window.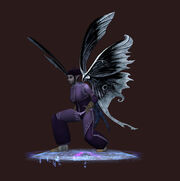 EverQuest II Item Information
Type: Mount
Subtype: Flying Mount

Disc of Harmonious Melodies

 
FABLED
ORNATE,  NO-TRADE
Summon Disc of Harmonious Melodies
Charges
Unlimited
Casting
2 seconds
Duration
Until Cancelled
Recast
0.0 seconds
Artisans: Alchemist, Armorer, Carpenter, Jeweler, Provisioner, Sage, Tailor, Weaponsmith, Woodworker
Level
85 (Tier 9)
Effects:

Applies Summon Disc of Harmonious Melodies when Activated.

Increases Aggression, Crushing, Disruption, Focus, Ministration, Ordination, Piercing, Ranged, Slashing and Subjugation of caster by 5.0
Summons a mount to ride

Increases your ground speed by 130%
Increases your air speed by 150%




Obtain:
\aITEM -291130799 -1043365484:Disc of Harmonious Melodies\/a \aITEM -291130799 -1043365484:Disc of Harmonious Melodies\/a
What does this information mean?
As of 2016 there are 8 different flying mounts available as rewards for completing Daily Objectives and earning enough tokens.
This is one of 4 flying disc mounts of similar themes to suit each type of combat class and alignment. For example, the Disc of Blades has a sword effect might suit any "tank" class while the Disc of Harmonious Melodies has magical notes which might suit a scout like dirge.
Though similar to the 8 year Veteran Reward discs, this disc and it's counterparts do not have the elemental theme.
EQ2i credits this article at Census for the info in this article.
the last update on Census for this item was:
Thu, 13 Jul 2017 14:55:41 +0000
Community content is available under
CC-BY-SA
unless otherwise noted.