In-Game Examine Window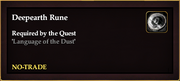 EverQuest II Item Information
\aITEM 1217372190 536840575:Deepearth Rune\/a \aITEM 1217372190 536840575:Deepearth Rune\/a
What does this information mean?
These runes are used to acquire the Serilian language spoken by Kobolds and Bugbears, however, unlike most other language quests, Language of the Dust is not started by examining one of the runes. You must speak to Lingualogian Roosey at ( -636, 175, 1094 ) /waypoint -636, 175, 1094 in the Gnomeland Security Headquarters in Steamfont Mountains to start the quest.
You must be greater than at least level 24 to get this quest from the NPC. Once started, all the runes you have held on to (you did keep them, right?) are now usable to advance the quest. You need 15 runes to complete the quest.
EQ2i credits this article at Census for the info in this article.
the last update on Census for this item was:
Tue, 18 Jul 2017 14:49:42 +0000
Community content is available under
CC-BY-SA
unless otherwise noted.