For other articles with related titles, see Death's Grip.

In-Game Examine Window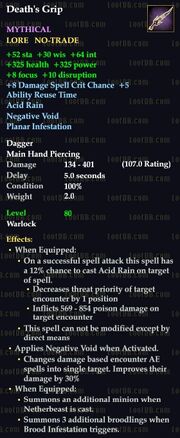 Death's Grip


MYTHICAL, Epic
LORE,  NO-TRADE,  NO-VALUE
  

54 Primary Attributes

54 sta


21 Spell Skills
3.1% Crit Chance
1.1% Crit Bonus
5%  Potency
3 Ability Doublecast

Negative Void
Acid Rain
Critical Mind
 
Dagger
Main Hand Crushing
Damage
181 - 544                  (120.96 Rating)
Delay
6.0 seconds
Level
80 (Tier 9)
Warlock
 
Effects:


Applies Negative Void when Activated.

Changes damage based encounter AE spells into single target. Improves their damage by 30%
The casting time of Negative Void is 5.0 seconds and the reuse time of the spell is 10.0 seconds

When Equipped:

On a damage spell hit this spell has a 12% chance to cast Acid Rain on target of spell.

Decreases threat priority of target encounter by 1 position
Inflicts 518 - 778 poison damage on target encounter
Cannot be modified except by direct means

Cannot be modified except by direct means

When Equipped:

Improves the critical damage of the warlock's professional spells by 10%.
Obtain: Reward from the quest "Kyrtoxxulous' Challenge".
\aITEM 17463714 -179706899:Death's Grip\/a \aITEM 17463714 -179706899:Death's Grip\/a
What does this information mean?
This item is a reward from one of the Epic Quests introduced with Game Update 42.
See the item's Obtain field for the particular quest that rewards this item.
EQ2i credits this article at Census for the info in this article.
the last update on Census for this item was:
Wed, 24 Jun 2020 14:44:34 +0000
Community content is available under
CC-BY-SA
unless otherwise noted.