What does this information mean?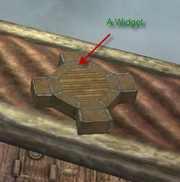 Collect 5 "broken widgets" from the dock area.
Scribe the Blueprint: Widget Repair recipe.
Craft 5 repaired widgets at the workbench located at ( 

1291, -540, 472

 ) 

/waypoint 1291, -540, 472

. You will need:

Return the widgets to Fenwick.
Note: Fenwick has more quests for you if you are a tinkerer.
At least

1p

 

25g

Completing this quest gives +2,000 faction with Iceclad Pirates
Community content is available under
CC-BY-SA
unless otherwise noted.