In-Game Examine Window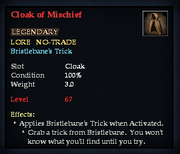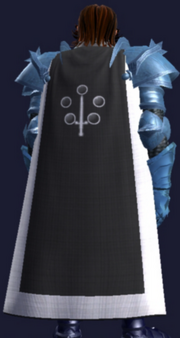 Cloak of Mischief


LEGENDARY
LORE,  NO-TRADE
 
Bristlebane's Trick
 
Slot
Cloak
Level
67 (Tier 7)
 
Effects:


Applies Bristlebane's Trick when Activated.

Grab a trick from Bristlebane. You won't know what you'll find until you try.
The casting time of Bristlebane's Trick is 2.0 seconds and the reuse time of the spell is 30 minutes
Obtain: Reward from the quest "Bristlebane's Beloved". (The final quest in the Bristlebane devotion series)
\aITEM 1207976549 -1015324647:Cloak of Mischief\/a \aITEM 1207976549 -1015324647:Cloak of Mischief\/a
What does this information mean?
Bristlebane's Tricks
Edit
The Cloak has illusion effects, each of which lasts 30 minutes and has a 30 minute recovery period.
When equipped and you click to Use the cloak's effects, one of the following random effects will be applied.
Mischief Personified:

Shrinks caster by 30%
Decreases Hate Gain of caster by 10%

Mischief Amplified:

Enlarges caster by 30%
Increases Damage Per Second of caster by 10

Gigglegibber Glee:

Transforms the caster into a Gigglegibber Goblin
gives a small amount of money((animated as a coin shower))

Note: Removing the cloak no longer (29th June 2013) cancels any effect until the cloak is re-equipped and its effects re-triggered. There is a 25 minute reuse timer on the cloak effect.
EQ2i credits this article at Census for the info in this article.
the last update on Census for this item was:
Tue, 18 Jul 2017 14:47:53 +0000
Community content is available under
CC-BY-SA
unless otherwise noted.