For other articles with related titles, see Cleansing of the Cove.

What does this information mean?
Background
Edit
Tarin Varinblade, a servant of Qeynos stationed in the Feerrott states: "A great spirit is growing, being summoned from the dead that this forest has claimed. An army of the undead lead by a great spectre will soon claim this land and then others." As the Feerottian jungle has claimed many Norrathian souls throughout the years, this spectre's undead army would be enough to threaten any of the sentient races of the world. It must be stopped!
While the overall map is the same as the The Trembling Lagoon, impassable rocks have been added to turn the zone into something of a labyrinth, with a very specific progression.
There is one spot where you can climb over the wall to reach the lagoon. This is in the altar area, at the far side of the wall from where you came in. Jump up the boulders and you can get to the other side. However, if you jump down to the beach there is no way back short of calling home or using an evac/portal.
Walkthrough
Edit
Progress through the instance by killing every monster along the preordained route. At the end there will be three vengeful acolyte NPCs surrounding a sacrificial altar. Once all the surrounding other undead are slain, one-by-one these acolytes will aggro and attack. After they all have cut down, the Spectre of the Feerrott will rise from the same altar.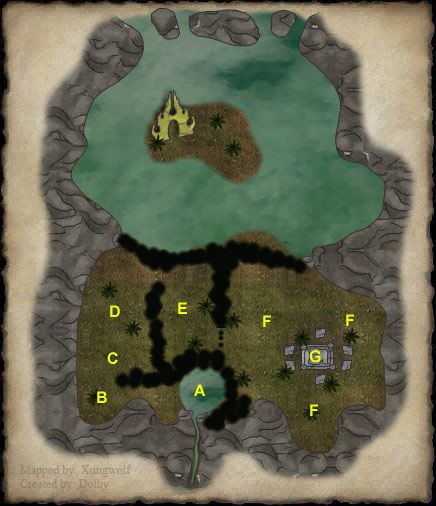 Community content is available under
CC-BY-SA
unless otherwise noted.