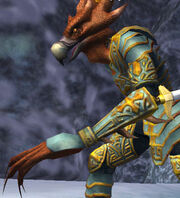 .
Needs to be unlocked with a token that came with the Kunark Ascending Collectors Edition.
Uses both Ranger and Fury abilities but is clasified as a Ranger.
Can be asked to track for you by right-clicking Claz'zakla.
Abilities/Spells
Edit
Archer's Fury VI (Master)
Hunter's Instinct VII (Master)
Armor of Seasons VII (Master)
Spirit of the Wolf
Favor of the Wild VI (Master)
Trick Shot VI (Master)
Triple Shot VI (Master)
Snaring Shot IV (Master)
Snipe VII (Master)
Searing Shot VII (Master)
Immobilizing Lunge VII (Master)
Community content is available under
CC-BY-SA
unless otherwise noted.