What does this information mean?
After examining the first Goblin Territory Marker, find seven more, examining each one as you find it.
Tip: if working on this quest to access the content included in Kunark Ascending expansion on a low-level character, you can get the markers from any zone where goblins congregate. See the Goblin category page for suggestions.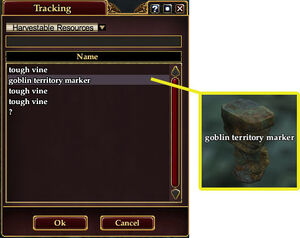 Those working on the Kunark Ascending tradeskill quests that also have their Tradeskill Alternate Advancement set to allow them to Track Harvestables have an alternate method of gaining this language. After examining at least one maker from a slain goblin, tracking will take you to tiny statues to gather instead. Note: The territory markers are trackable in Twark even if you have not examined a marker previously.
This will work once you have completed the Losers, Weepers quest that makes the local goblins tolerate your presence.
Use the Track Harvestables ability
Move around until a goblin territory marker appears in the list.
Select it from the list, consult the marker on the map and go to that location
Locate and gather the statue version of the territory marker
Repeat the above 7 times until you complete the language.