Adventures, please see the Chaos Descending Timeline.

You need to be at least level 110 Crafter to start the quest line.
Bringing portable crafting stations can save you a HUGE amount of time.
Signature Questline
Edit
Required MaterialsEdit
Note: Some quests require you to harvest materials as part of the quest. The harvested materials have not been included in these totals.

Common Harvests
Rare Harvests
Fuel
Tradeskill Missions
Edit
Available upon completion of the tradeskill signature quest line from Domigin Surice in Myrist, the Great Library at ( 178, -4, 4 ) /waypoint 178, -4, 4
Harvesting Missions
Edit
Guildhall Harvesters will offer harvesting missions. Thus far, there are no other quest givers for these missions, so if your harvesters are busy harvesting, too bad, so sad, you can't get the missions.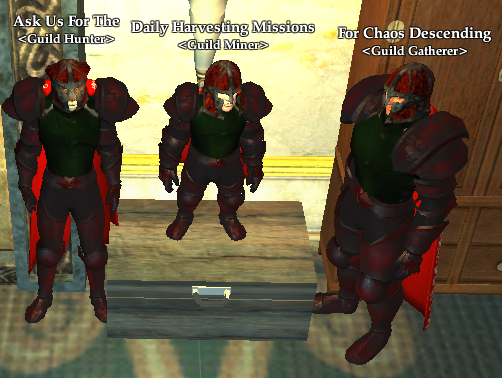 Tradeskill's Primer Volume 01-10 (Alchemist's Primer Volume 01, etc.) contain handcrafted recipes - These are available after completing The Scrivener's Tale: Animating the Inanimate
Advanced Tradeskill Studies 01-10, contain mastercrafted recipes (provisioners only have 1)
Tinkers Primer Volume 01-10
Transmuting Dilutions, Volume 12 - for Planar items
Transmuting Distillations, Volume 12 - for Planar tiems
Achievements
Edit
[Not sure there are going to be tradeskill-related achievements this expansion. We'll have to wait and see.]