See the Tradeskill Timeline page for a complete list of all tradeskill quests from every expansion.
You need to be at least a level 110 Artisan to start the quest line.
Bringing portable crafting stations can save you a HUGE amount of time.
Some quests of the signature questline reward with recipes for 90 Resolve weapons, but the primary component drops from raid mobs.
Signature Questline
Edit
Required MaterialsEdit
Note: Some quests require you to harvest materials as part of the quest. The harvested materials have not been included in these totals.

Common Harvests
Rare Harvests
Fuel
Tradeskill Missions
Edit
Available upon completion of the tradeskill signature quest line from Domigin Surice in Myrist, the Great Library at ( 178, -4, 4 ) /waypoint 178, -4, 4. These quests reset every 18 hours.
Detroxxulous
Doomfire
Eryslai
Vegarlson
Rewards:
Harvesting Missions
Edit
Guildhall Harvesters will offer harvesting missions. Thus far, there are no other quest givers for these missions. These quests reset every 18 hours.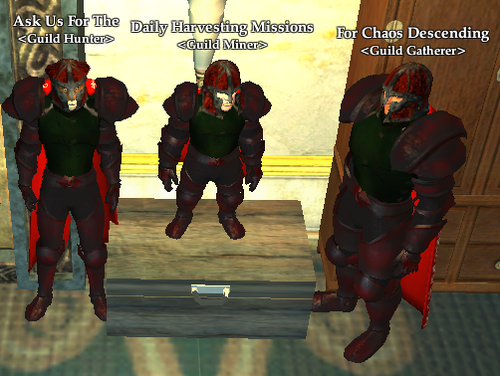 Community content is available under
CC-BY-SA
unless otherwise noted.