Raise a Floppa - The Loop
Play Sound
What does this information mean?
Background
[
]
Cazel the Mad and his cyclopes goons are holed up in here. Gather your mightiest allies and rid the Pillars of Flame on this crazed menace.
Guide
[
]
Cazel's Mesa access is at the base of the Mesa.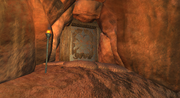 The zone is shaped like a donut, with a tall rock formation in the middle. Upon zone-in, Rarantar and his four assistants will be visible in front of the rock formation. The zone is full of static spawn heroic cyclopses, leopards, and sand giants. It is also patrolled by solo leopards. Most monsters in the zone are social with most others.
Trash does not need to be cleared, although it may help to clear the patrolling leopards and the cyclopes and giants near Rarantar and Co.
After dropping Rarantar, Darantar the Tamer and his three pets spawn. They too must be cleared.
Once Darantar is down, circle around to behind the rock formation. Cazel the Mad is waiting back there.
Notes
[
]
Back in the days before The Rending, Cazel was a sand giant who terrorized the Oasis of Marr.