What does this information mean?
Description
Edit
Cavern of Tangled Weeds is a small tunnel system filled with beetles and dryads. There are a few level appropriate item drops and a very rare chance at having a named spawn. There exists a heroic and solo version of this instance that are identical in every way short of the difficulty. The instance has no lockout or persistence, so it can be entered and cleared as many times as desired.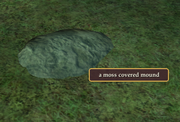 The entrance is a lump of ground titled 'a moss covered mound' when highlighted. It has a few spawn locations and can be difficult to spot as sometimes only a little bit of it is poking out of the ground. All possible entrances are in the Misty Grove, surrounding The Heart of the Forest. Below are the possible entrance locations:
( -410, 15, -800 ) 

/waypoint -410, 15, -800

( -640, 15, -720 ) 

/waypoint -640, 15, -720

( -500, 15, -870 ) 

/waypoint -500, 15, -870

( -450, 15, -830 ) 

/waypoint -450, 15, -830
See Also
Edit
Community content is available under
CC-BY-SA
unless otherwise noted.