In-Game Examine Window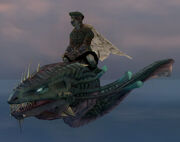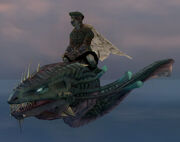 Cavedrifter
Summon Cavedrifter

FABLED
NO-TRADE,  NO-VALUE
5400 vs physical 5400  Resistances
Summon Cavedrifter
 
Charges
Unlimited
Slot
Charm (Optional)
Level
35 (Tier 4)
 
Effects:


Applies Summon Cavedrifter when Activated.

Summons a mount to ride.

Increases your Ground Speed by 100%
Increases your Air Speed by 150%

Increases: Chance to Block by 4.0%, Potency by 75.0%, Crit Chance by 280.0, Max power by 6,000.0, Max Health by 17,000.0, Ability Modifier by 11,000.0
Your Adventure Level must be 100 to receive Statistic Bonuses
Obtain: [How can I get one?] try LootDB or the linkback
What does this information mean?
This is a flying mount.
This item is from the Collectors Edition of the Terrors of Thalumbra expansion. If you purchased the Collectors Edition of this expansion while it was still available type /claim and locate this and other premium items in the Claim window.
An upgraded version of this mount was offered with the Premium version of the expansion.
Community content is available under
CC-BY-SA
unless otherwise noted.