Class Information for Wizard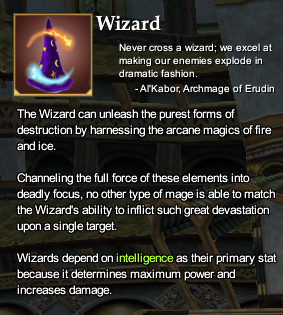 The Wizard profession is ideal for those who seek to unleash the purest forms of destruction through the arcane magic of fire and ice. Wielding these powerful elemental energies, the Wizard serves his/her party by devastating opponents from afar with damaging magic.
Epic Weapon
Edit
Class Armor
Edit
Important Skills
Edit
Disruption (against damage spell resists)
Subjugation (against control spell resists i.e. root/snare/mezz)
Spells By Category
Edit
The first spell in each category is listed. See the detailed description for the full upgrade line.
Damage

Single Target Damage

AE Damage

Effect

Root(15% break on damage)+ending snare: Shackle (5)
Interrupt+Stifle -Hate: Cease (10)
Mezmerize target+self: Aurora (25)

Area Effect

Buffs

Self Buffs

Group Buffs

Single Ally Buffs

Cure/Dispel

Utility

Self Transport

Power

Heroic Starter

Misc
Spells by Tier and Level
Edit
Grandmaster Training Choices
Edit
Tier 2 - Level 14
Tier 3 - Level 24
Tier 4 - Level 34
Tier 5 - Level 44
Tier 6 - Level 54
Tier 7 - Level 64
Tier 8 - Level 75
Tier 9 - Level 85
Tier 10 - Level 95
Tier 11 - Level 105
All items (8)