Class Information for Warlock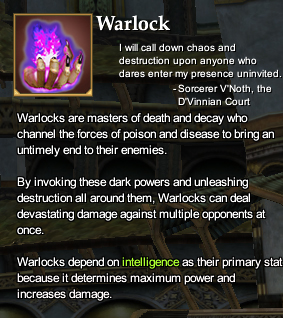 Those who desire to wield the dark forces of poison and decay to cripple and obliterate their foes will find the Warlock profession to be ideal. Wielding curses and calling upon the destructive forces of the void and the darkness, these mages are most effective when they rain down debilitation and damage upon entire groups of enemies at once.
Class Armor
Epic Weapon
Important Skills
Disruption (against damage spell resists)
Subjugation (against control spell resists ie. root/snare/mezz)
Spells By Category
The first spell in each category is listed. See the detailed description for the full upgrade line.
Damage and Debuffs

Single Damage

Area Damage

Single Effect

Area Effect

Buffs

Self Buffs

Group Buffs

Ally Buffs

Cure/Dispel

Utility

Portal

Power

Heroic Starter

Miscellaneous
Spells by Tier and Level
Grandmaster Training Choices
Tier 2 - Level 14
Tier 3 - Level 24
Tier 4 - Level 34
Tier 5 - Level 44
Tier 6 - Level 54
Tier 7 - Level 64
Tier 8 - Level 75
Tier 9 - Level 85
Tier 10 - Level 95
Tier 11 - Level 105
Tier 12 - Level 115