Class Information for Warden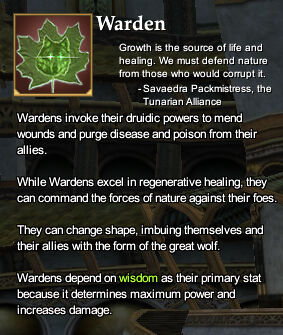 The Warden profession is ideal for those who desire to use harmonious magic provided by nature to fulfill a protective role in the world. The Warden serves their party by invoking their druidic powers to mend wounds and purge the effects of disease and poison that afflict their allies. The Warden may also invoke powers to bestow temporary protective effects on and enhance the attributes of their allies, as well as hinder or harm their foes.
Epic Weapon
[
]
Class Armor
[
]
-EoF-
-RoK-
-TSO-
Druid series
Hybrid leather series
Warden
-PvP Servers only-
-SF-
Heroic
Raid
-DoV-
Spells By Category
[
]
The first spell in each category is listed. See the detailed description for the full upgrade line.
Healing, Cures, & Damage

Direct Heals with a Small HoT

Regenerative Heals

Limited Duration Heal Pets

Cures

Damage

Buffs & Debuffs

Single Target Buffs

Group Buffs

Debuffs & Crowd Control
Spells by Tier and Level
[
]
Grandmaster Training Choices
[
]
Tier 2 - Level 14
Tier 3 - Level 24
Tier 4 - Level 34
Tier 5 - Level 44
Tier 6 - Level 54
Tier 7 - Level 64
Tier 8 - Level 75
Tier 9 - Level 85

Nature's Embrace VIII

Dawnstrike VIII

Winds of Permafrost V

Armor of Seasons VII

Tier 10 - Level 95
Tier 11 - Level 105
Tier 12 - Level 115

Nature's Embrace IX

Dawnstrike IX

Winds of Permafrost VI

Armor of Seasons VIII
Trending pages
All items (3)