Class Information for Troubador
Type:
Bard (Scout)
City:
All Cities
Primary Stat:
Agility
Armor:
Chain Armor
Weapons:
Swords, Axes, Spears, Rapiers, Daggers, Bows, Thrown; may dual-wield
Shields:
Bucklers, Round Shields
Expert Spells:
Combat Arts (Rare Loam)

Links to All Relevant Categories for: Scout > Bard > Troubador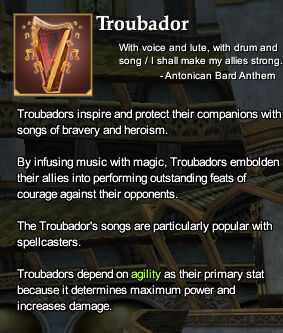 The Troubador is ideal for those who desire to inspire and protect their allies through the unique magic generated by their songs of bravery and heroism. The Troubador best serves their party from behind the front lines of combat. Through their music, the Troubador inspires allies to perform outstanding feats of skill and courage. The Troubador may also use their songs to demoralize its enemies.
Epic Weapon
[
]
Class Armor
[
]
-EoF-
-RoK-
-TSO-
Bard series
Troubador
-PvP Server only-
Abilities By Category
[
]
The first spell in each category is listed. See the detailed description for the full upgrade line. Bards have both spells and combat arts.
Melee Attacks

Back/Flank Melee Attacks

Stealth Melee Attacks

Ranged Attacks

Debuffs

Encounter Debuffs

Constant Group Offense Buffs

Short Group Offense Buff

Short Single Target General Buff

Constant Group General Buffs

Constant Group Defense Buffs

Constant Raid Defense Buffs

Hate Control

Constant Self General Buffs

Constant Self Epic Buff

Misc

Fun
Spells and Combat Arts by Tier and Level
[
]
Grandmaster Training Choices
[
]
Tier 2 - Level 14
Tier 3 - Level 24
Tier 4 - Level 34
Tier 5 - Level 44
Tier 6 - Level 54
Tier 7 - Level 64
Tier 8 - Level 75
Tier 9 - Level 85

Arcane Symphony VI

Night Strike VIII

Tier 10 - Level 95
Tier 11 - Level 105
Tier 12 - Level 115
Trending pages
All items (3)