Class Information for Shadowknight
Type:
Crusader (Fighter)
City:
Freeport, Neriak, Gorowyn
Primary Stat:
Strength
Armor:
Plate Armor
Weapons:
Swords, Hammers, Axes, Spears, Staffs, Great Swords, Great Hammers, Great Axes, Great Spears, Bows, Symbols
Shields:
Bucklers, Round Shields, Kite Shields, Tower Shields, Symbols
Expert Spells:
Combat Arts (Rare Loam)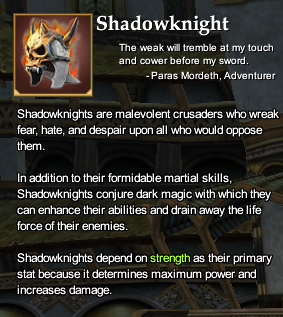 The Shadowknight profession is ideal for those who seek personal power through physical force and live to spread fear, hate, and despair. The Shadowknight is trained in martial skills and has the ability to conjure dark magic to enhance their abilities and heal themselves in combat. This combination of offensive and defensive capabilities makes the Shadowknight a very effective front-line combatant.
Epic Weapon
[
]
Class Hat
[
]
Hoo'Loh's Dark Helm (67) - Kingdom of Sky Class Hat from quest: Blood of the Brood
Unholy Helm of the Deathknight (67) Drops from Korgo the Vault Keeper in the The Vaults of El'Arad
Class Armor
[
]
-EOF-
-ROK-
-TSO-
Plate Fighter Shard Armor Series (DPS set)
Crusader Shard Armor Series (Tank set)
Shadowknight Shard Armor
-SF-
Battleground Plate Armor Sets
Cominius' Plate (Armor Set)

(80)

Dreadnaught Plate (Armor Set)

(90)
Crusader Mark Armor Series (Tank)
Double Plated Plate (Armor Set)

(85)
Plate Fighter Mark Armor Series (DPS)
Strengthened Plate (Armor Set)

(85)
Plate Healer Mark Armor Series
-Velious -
See also
[
]
Combat Arts By Category
[
]
The first combat art in each category is listed. See the detailed description for the full upgrade line.
Offenses

Pure Damage

Damage & Debuff

Drain

Buffs & Taunts

Offensive Buff

Defensive Buff

Miscellaneous Buff

Taunt
Spells and Combat Arts by Tier and Level
[
]
Grandmaster Training Choices
[
]
Tier 2 - Level 14
Tier 3 - Level 24
Tier 4 - Level 34
Tier 5 - Level 44
Tier 6 - Level 54
Tier 7 - Level 64
Tier 8 - Level 75
Tier 9 - Level 85
Tier 10 - Level 95
Tier 11 - Level 105
Tier 12 - Level 115

Tap Veins IV

Siphon Strength VI

Harm Touch VII

Soulrend VIII

Painbringer IX

Mana Sieve V

Dark Blade IX

Harm Touch VIII

Painbringer X

Mana Sieve VI

Dark Blade X

Harm Touch IX
Achievements
[
]
Trending pages
All items (3)