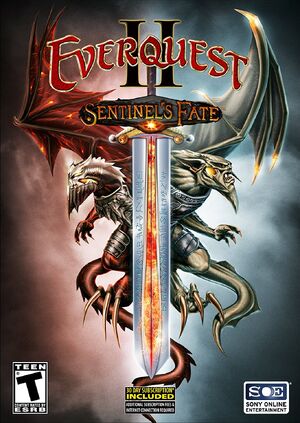 Sentinel's Fate is the sixth expansion for Everquest 2, released in February 2010. It contains content intended for levels 80-90. This expansion also gives access to all previous released expansions and adventure packs. Adventuring, tradeskill, and guild level caps are raised to 90 and the AA cap is raised to 250. Sentinel's Fate takes place in the land of Odus and reveal the reason behind the Erudite Change. The fate of Norrath as a whole will rest with Odus as the Void storyline comes to a close as part of the larger end-of-days storyline.
FEATURES
Edit
Sentinel's Fate introduces the fabled lands of Odus, filled with epic quests. Its features include:

Achieve your greatest potential with a level cap increase to 90
Discover two expansive new overland zones, The Sundered Frontier and The Stonebrunt Highlands
Battle through 12 epic dungeon additions
Experience the legend of Odus through 400 new quests
Conquer five new Heritage Quests with valuable new loot
Equip over 2,000 new weapons and pieces of armor and items
Add all new alternate advancement abilities to your arsenal of powers
Defeat hundreds of new dangerous and cunning creatures
Getting Started
Edit
Ulteran Spires could be transported to the Sundered Frontier on Spire Island at ( 2218, -210, 2474 ) /waypoint 2218, -210, 2474 
, which will be the first area you'll wish to explore.You could accessible via the Paineel Teleporter at ( 1917, -301, 3318 ) /waypoint 1917, -301, 3318 
. There is a teleportation nexus at the center of this spire that connects to any of the Ulteran Spires in Norrath.
The Toxxulia Forest Druid Ring is located at ( 988, -49, 3382 ) /waypoint 988, -49, 3382 
.
Location at The Sundered Frontier
Location at The Stonebrunt Highlands
Raids
Quest Series
Edit
Timeline
Daily mission
References
Edit
Trending pages
All items (45)